Property for sale in France, Brittany, Normandy, Pays de la Loire, Poitou-Charentes and beyond.
Welcome to Clé France - The French Property Network
Property for sale in France through our network of Agents and French Registered Estate Agents. We have over 7000 houses for sale in France ranging from cheap houses to renovate right up to Luxury Dream Homes and perfectly charming Holiday Homes for sale. Countryside, town, village and coastal property for sale.
New French property for sale added everyday! SIGN UP to our mailing list to keep up to date.
 

 

 

 

 

 

 

 

 

 

 

Choosing one or more of the criteria in the search box (left) will show you a list of matching properties.

Alternatively, use Advanced Search to find properties on an interactive map of the region.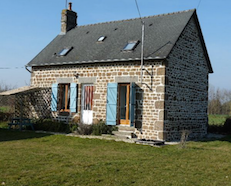 We have lots of property for sale in France but each week we pick out one and feature it here as our "Property of the Week" 
 REDUCED in price - Situated in beautiful rural countryside with lovely views is this pretty detached cottage, with a separate large barn and a little bread oven - 105,000 euros FAI. Click on the image for full details. 
 There are no extra costs when buying through Clé France. We will guide you through the entire buying process step by step from your first contact right up to taking ownership and beyond, all free of charge.
NO HIDDEN FEES: The price you pay is the same as anyone walking through the door of the agency, same as the price paid by the French buyer.
All quoted prices are INCLUSIVE OF AGENCY FEES (FAI): with Notaire's fees to be added (these average 7% to 8%).
OUR AGENTS: are all registered and insured in France, or they are holders of the 'carte professionnelle' as required by French law.
So when you buy through Clé France: you have the benefit of a bi-lingual support team & can be confident that you are paying no more than the standard commission rates you would pay anyway.
CONTACT US: to discuss your search for property in France, or indeed for any further information you may require on French property sales.
Some of our most popular searches are listed below, simply click on the link that matches your criteria best or use our Quick Search box always at the of the page.
Advanced Search: including saving your favourites and getting updates of new property for sale in France and price reductions direct into your inbox.
property for sale in france, property for sale in brittany, property for sale in normandy, property for sale in loire, property for sale in charentes,
>>> Join Us on FACEBOOK : TWITTER : YOU TUBE : FRENCH BLOG see you there! <<<